5BORO SKATEBOARDS COLLABORATES WITH THE BEASTIE BOYS ON LIMITED-EDITION BOARD GRAPHIC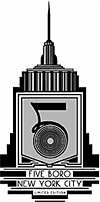 New York, NY – July 6, 2004 –
NYC's
5boro Skateboards
is proud to announce a special art-inspired collaboration with the
Beastie Boys
in celebration of their critically acclaimed new release,
To The 5 Boroughs
.
"When Cornerstone Promotion approached us on behalf of Capitol Records to discuss teaming up with the Beastie Boys to produce an exclusive co-branded board graphic, we were really psyched to make it happen," says 5boro Skateboards Founder and Owner Steve Rodriguez. "The 5boro crew and I grew up skating to the Beastie Boys' music, and we're honored to work with them and be a part of their history."
To bring the limited-edition board graphic to life, 5boro's Creative Director Mark Nardelli worked closely with representatives from Cornerstone, Capitol and noted Italian artist Matteo Pericoli whose work entitled, "Manhattan Unfurled," graces the album cover of
To The 5 Boroughs
. Through a joint effort, Nardelli transformed Pericoli's illustration into a board graphic for this special project, and the result is top-shelf.
Only 100 5boro / Beastie Boys decks exist, and each deck is signed by the Beasties and numbered. They will definitely be highly sought after, and very difficult to acquire. Keep an eye out for special deck giveaways at Beastie Boys shows, premiers for TransWorld Skateboarding's new film
Subtleties
, and online at beastieboys.com, skateboarding.com and 5boro.com. And don't forget to check eBay.